Wedding Tent Rental | Rentals For Weddings
Are you planning your wedding and looking for rental equipment for that special day? From outdoor tents, tables and chairs to lighting, staging and the dance floor, we have what all the wedding rentals needed to do your outdoor wedding and reception.
As the saying goes "Love is in the air" and what better place to hold such a joyous occasion than the outdoors. The freedom of open space, the fresh air, and all of nature can only add a special touch to an already special day.
The two biggest fears couples have about planning an outdoor wedding or reception are weather and knowing what it will look like. As much as we'd like, we can't change Mother Nature, but by answering just a few questions, we can place you in the right size tent to fit your needs and can show you a layout of your set up. You'll find relief knowing inclement weather can be kept at bay and you'll be able to visualize your set up long before your wedding day rolls around.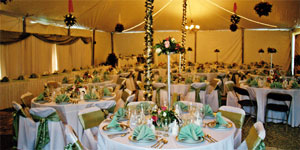 With our years of experience, we'll be able to make recommendations concerning seating arrangements, specialty tent rental, dance floor location, dining/catering considerations, heating/cooling ideas, and much more, all based on your unique wedding or wedding reception situation. Preparing for your wedding day should be fun, enjoyable, and exciting. Let the Lansing tent rental experts at American Rentals help you with the seemingly endless task of planning such a special event.
Our knowledge and insight will prove to be useful assets, saving you invaluable time and effort in your preparations for your wedding and wedding reception.
Our Michigan tent rental company, American Rentals wishes you the best of luck in planning your event, and will offer whatever assistance we can to help make it a success. Just give us a call toll-free at 1-800-637-1110 or request a free online estimate here.